This is to record the service carried out at customer's site.
Go to Photocopier > Customer Service Maintenance,
Click on Create a New Customer Service ,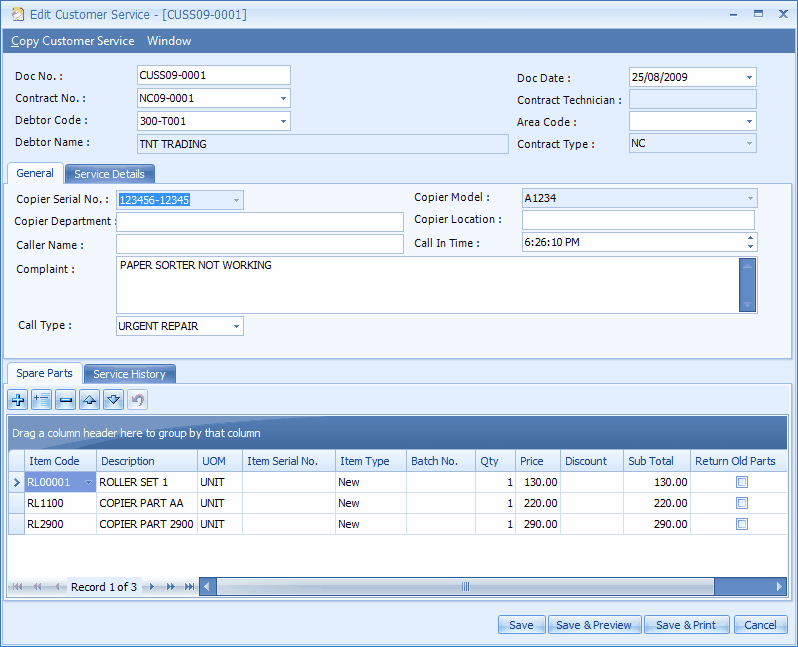 Header
Doc. No: this document number is auto-run
Doc. Date: assign the document date; by default it will captured computer date
Contract No: select the contract number, the related debtor's info will be auto-filled.
General
Key in the complaint and select the Call Type.
Service Details
Key in the service information.

Spare Parts
Add the items (spare parts) if applicable.
Item Type: click on the field to select either 'New' or 'Used'.
If the items are chargeable (which price = not 0.00), invoice will be generated upon save;
If the items are not chargeable (price = 0.00), Stock Issues will be generated upon save;
if some items are chargeable and some are not, an Invoice will be generated.
Note: When there were spare parts involved, saving a Customer Service transaction will create a consignment transaction (save as Returned Quantity) to the respective technician. Thus, if you have earlier 'consigned' some items to the technician, Outstanding Consignment report will be updated immediately.
_____________________________________________________________
Send feedback about this topic to AutoCount. peter@autocountSoft.com
© 2013 Auto Count Sdn Bhd - Peter Tan. All rights reserved.