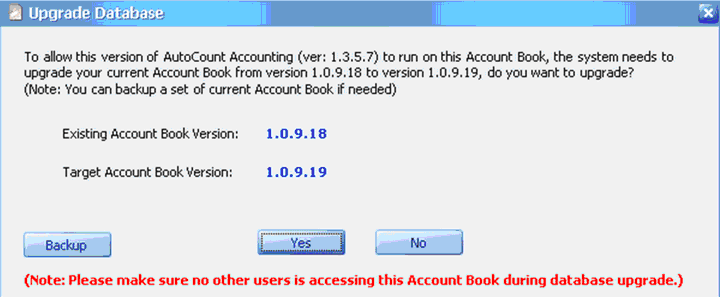 Question: When I tried to login to an account book, this message prompted asking me to upgrade my account book?
Possible Reason:
You have upgraded the AutoCount Accounting software and try to login to a database (account book) of older version.
(to see which version of database is supported by which version of AutoCount Accounting, refer to Versions Released)
Solution
Click on Yes to upgrade the database version if you are sure that you have login to the correct account book. You are advised to backup the existing database before upgrading, as once upgraded the database (account book) can not reverse to its former version.
_____________________________________________________________
Send feedback about this topic to AutoCount. peter@autocountSoft.com
© 2013 Auto Count Sdn Bhd - Peter Tan. All rights reserved.