Air/Road Freight Job
This is for you to create/edit/print a freight job,
Go to Advanced Freight > Air/Road Freight Job,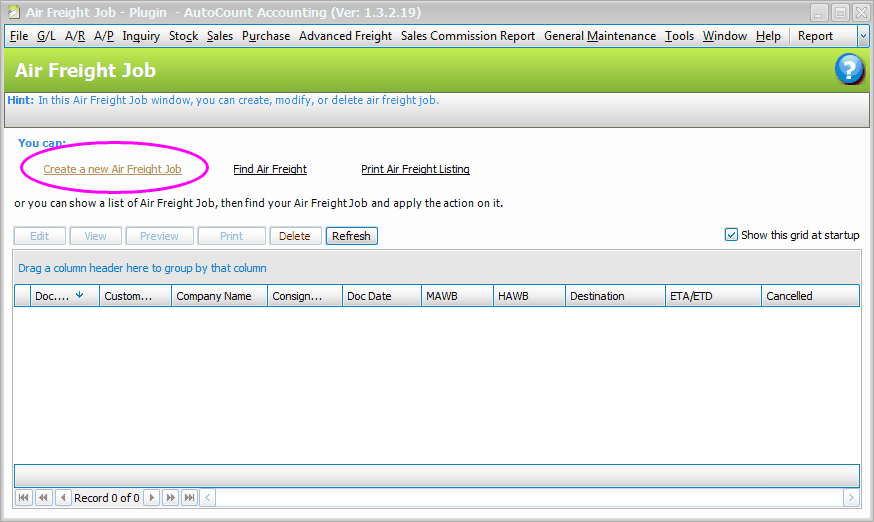 Create A New Air Freight Job
Click on Create A New Air Freight Job,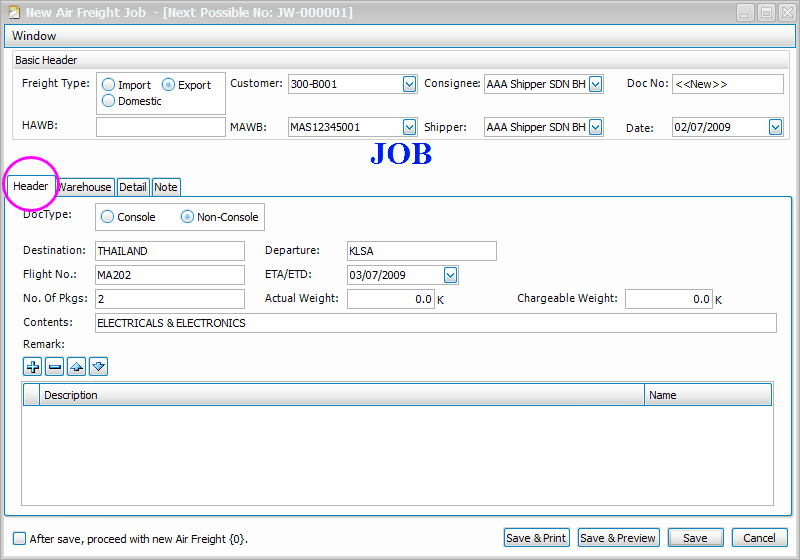 Basic Header:
Freight Type: select the freight type
Customer: select the customer
HAWB: key in the number of House Air Waybill (if any)
MAWB: select the Master Air Waybill number
Consignee/Shipper: select the consignee/shipper
Doc No: the next running number is shown on the top bar of the windows. You may change the document format at General Maintenance > Document Numbering Format Maintenance > Category:Stock.
Date: select the Job date.
Header:
Doc Type: Console means a combination of several HAWB; Non-Console means single AWB.
Destination: the destination location
Departure: the departure location
Flight No: the flight number if you already have it
ETA/ETD: the expected time of arriving/departure
No. of Pkgs: number of packages
Actual Weight: the weight in kg; this value will be copied to Quantity field in Detail row if Auto Copy Weight is checked in Air Freight Item Maintenance.
Chargeable Weight: the value of weight which is chargeable.
Contents: brief description of the content of consignment.
Click on Warehouse tab if you have the info of the warehouse.
Click on Detail tab: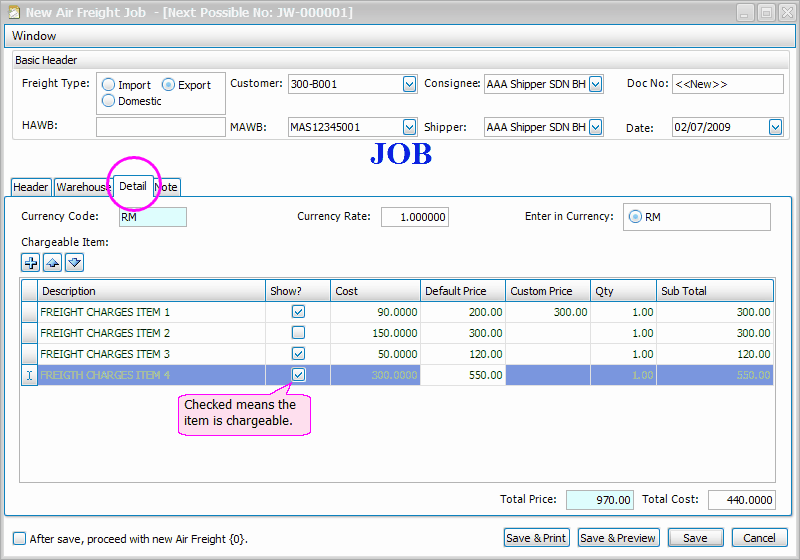 The charges items are auto-displayed, check the check-boxes of Show? column if relevant, and leave it unchecked for irrelevant items.
Should the price is different from Default Price, key in the price into Custom Price.
Key in the Qty (quantity) and the Sub Total will be displayed.
The Total Price and Total Cost will also be displayed.
You may also click on '+' button to add a charges item on this Job. You will be prompted to select the GL Sales and Purchase accounts before entering the description and price.
Click on Note tab to key in additional notes or remarks (if any).
Click on Save.
Cancelled: to cancel the bill but not deleting it. Double click on the checkbox against Cancelled column, click on Cancel Document. (similar way to Uncancel it.)
You may highlight the document row and click on Preview to view the printing layout.
Find Air Freight Job
Click on Find Air Freight to search for a particular Job that you have saved (should you have a long list of documents).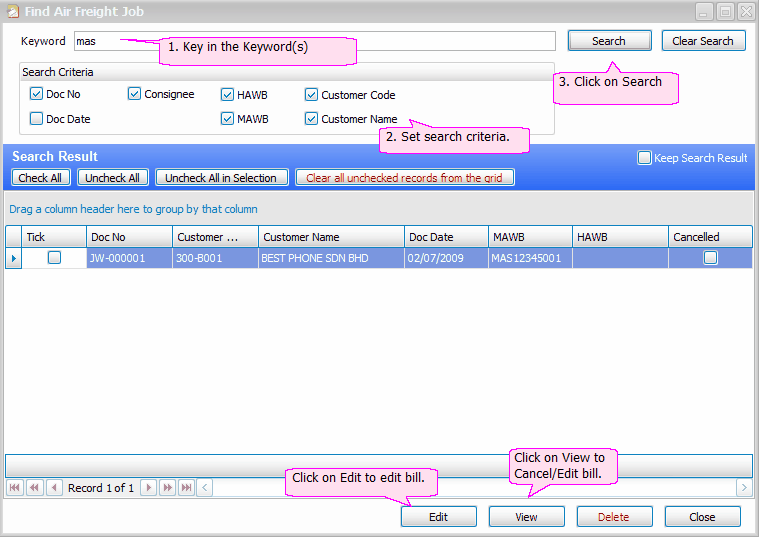 Type a Keyword, select Search Criteria and click on Search. A list of filtered documents will be displayed.
Check the checkbox of the document against Tick column, and click on Edit to edit bill OR View to cancel/edit bill.
Print Air Freight Listing
Click on Print Air Freight Listing,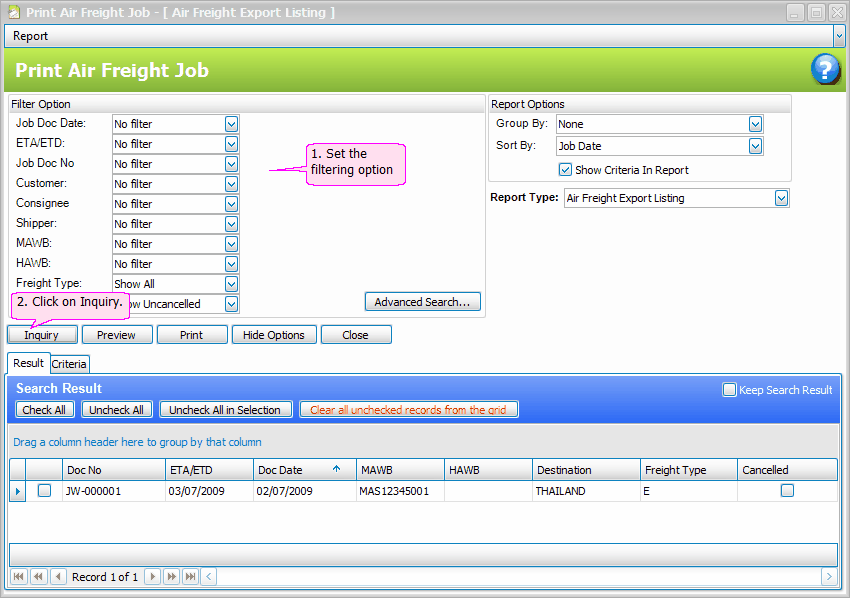 Select the Filter Options and click on Inquiry, then click on Preview to view the listing report.
_____________________________________________________________
Send feedback about this topic to AutoCount. peter@autocountSoft.com
© 2013 Auto Count Sdn Bhd - Peter Tan. All rights reserved.