This is the place you can backup the database of this account book.
Frequent backup is a good practice, you may also go to Tools > Options > General - Application Settings to check the option of Always prompt Back Up when exit application .. so that the system will remind/offer you to backup before exit.
Alternatively, you may also make use of Scheduled Backup.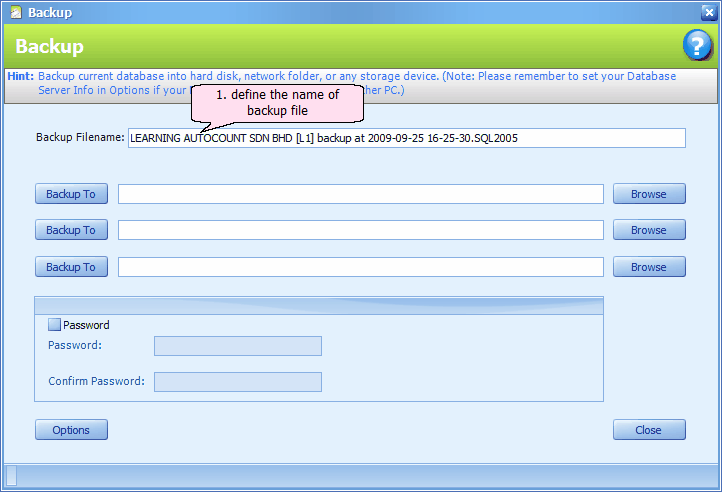 Backup Filename: the default backup file name will be <Company name> + backup at <date time>. However you may define your own file name.
Browse: you may run backup simultaneously to more than 1 place.
Click on Browse,
Click on Add to add the target path.. (you may add more than one place)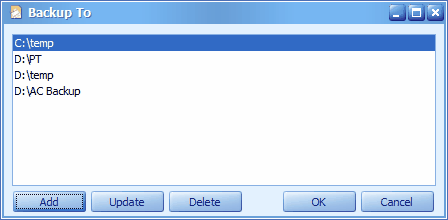 Click on OK..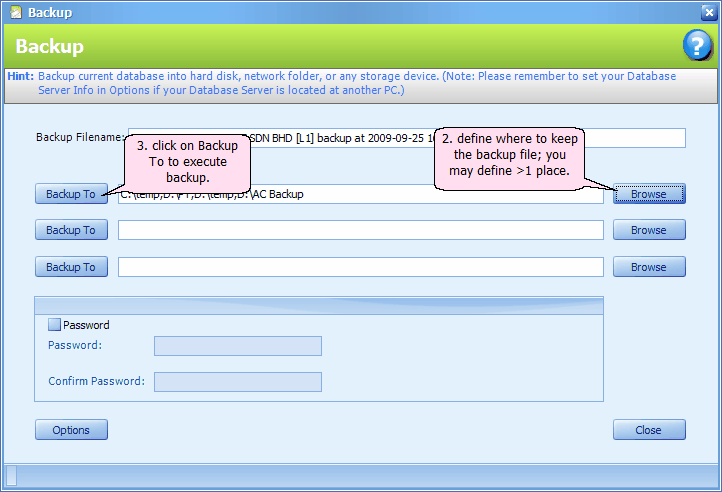 There are altogether 3 row of backup maintenance for those users who wish to maintain the backup path to different devices.
Password: set password to protect this backup file, so that password is needed when restore from this backup file.
Options: to set other backup options.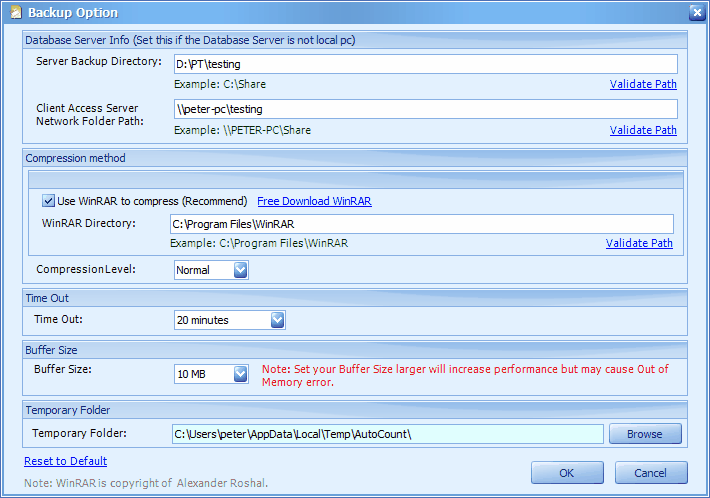 Database Server Info
(This setting is not needed when running backup at database server PC, as the folder maintained at Temporary Folder will be utilised.)
When you perform 'Backup' at workstation/client PC, the following process will take place:
1. You (workstation) send a backup query to database server,
2. The server responded by producing a temporary backup file to Server Backup Directory,
3. You (workstation) will remove the temporary backup file thru Client Access Server Network Folder Path (the same folder as step 2), and paste it to the designated folder(s) defined at Backup To.
Server Backup Directory: key in the path of temporary backup folder on server (which is shared out with read and write access rights). E.g. D:\Shared\Backup
Client Access Server Network Folder Path: key in the server path of Server Backup Directory, in the format of: \\<server name>\<backup folder name>... E.g. \\ACServer\Shared\Backup
Validate Path: to check if the path you have keyed in is valid.
Use WinRAR to compress (Recommend): to enable database compression using WinRAR.
WinRAR Directory: the path where WinRAR program is installed.
Time Out: set the waiting time for SQL Server to respond. If SQL Server did not respond within this time (may be caused by high loads of queries), the Backup query will be cancelled (time out).
Buffer Size: set the buffer size for backup.
Temporary Folder: define a folder for Server to store the generated temporary backup file; this folder is used when running backup at database server PC.
Backup To: click on this button to execute backup.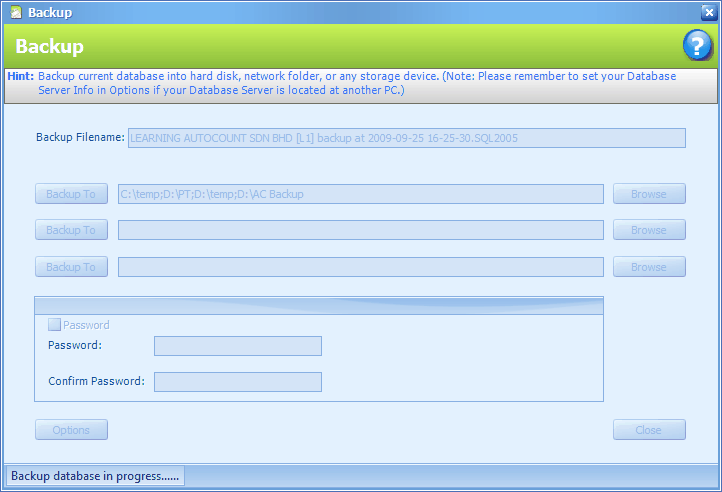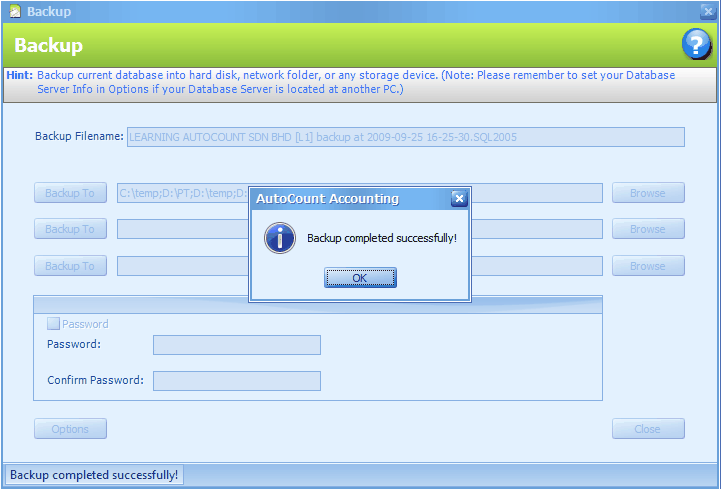 Related topic: 15036 Check Database Error Before Backup.
_____________________________________________________________
Send feedback about this topic to AutoCount. peter@autocountSoft.com
© 2013 Auto Count Sdn Bhd - Peter Tan. All rights reserved.