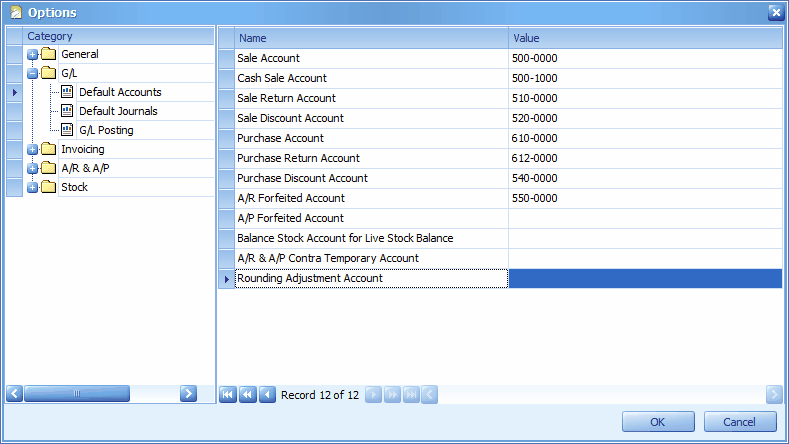 This is the master setting of G/L Accounts for posting purpose.
You are advised to assign G/L accounts here, though you may have assigned G/L Account Code at Stock Group Maintenance. If any of the stock items does not belong to any Stock Group, its posting to G/L accounts will base on this Default Accounts.
One benefit of assigning G/L Account Code here is it allows you to click on 'Load from Default' during Stock Group Maintenance.
Beside this default G/L Account setting and Stock Group Maintenance, other places to assign G/L Accounts are:
•

General Maintenance > Posting Account Group Maintenance

(to be used in Debtor/Creditor Maintenance)
| | |
| --- | --- |
| • | During transaction, at the detail grid. |
Rounding Adjustment Account is available only in version 1.5.030 onwards. See 15030 Rounding Adjustment (5-Cent) in CS/Invoice.
Balance Stock Account for Live Stock Balance is available only in version 1.5.31 onwards. You need to define account code for Balance Stock Account only when the option of Use Live Stock Balance in all Financial Reports is checked. (Tools > Options > General > Application Settings).
_____________________________________________________________
Send feedback about this topic to AutoCount. peter@autocountSoft.com
© 2013 Auto Count Sdn Bhd - Peter Tan. All rights reserved.