(This feature is added to version 1.3.1.14 onwards.)

This is for user to combine several cheques (entries) into one entry row for the purpose of Bank Reconciliation. The combination of entries does not affect their ledger/journal entries.

Examples of usage:
Scenario 1: You have received a piece of cheque RM 300 from A to pay on A's account RM 100 and B's account RM200. (assuming A and B are related)
You then record the entries in AutoCount: create 2 receipts transaction for A and B respectively. The Bank account displays 2 separate entries (RM 100 from A and RM 200 from B). However, you have banked in only one cheque, thus there will be only one entry RM 300 to appear on Bank Statement.
To make the reconciliation easier, you can create a bank slip to combine the 2 entries totalled RM300.
Scenario 2: You have banked in several pieces of cheques totalled to RM1000 using one bank in slip, and the bank statement (for some bank) will show in one entry (lump sum total of RM1000) instead of several cheques. In AutoCount, bank account has recorded each individual cheque...
For easier reconciliation, a bank slip is created to combine these cheques totalled to RM 1000.
How to use Bank Slip ?

Go to G/L > Bank Reconciliation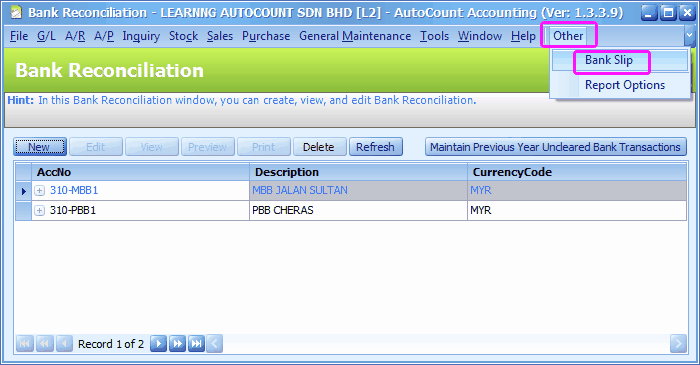 Highlight the Bank account,
Go to Other > Bank Skip
Click on New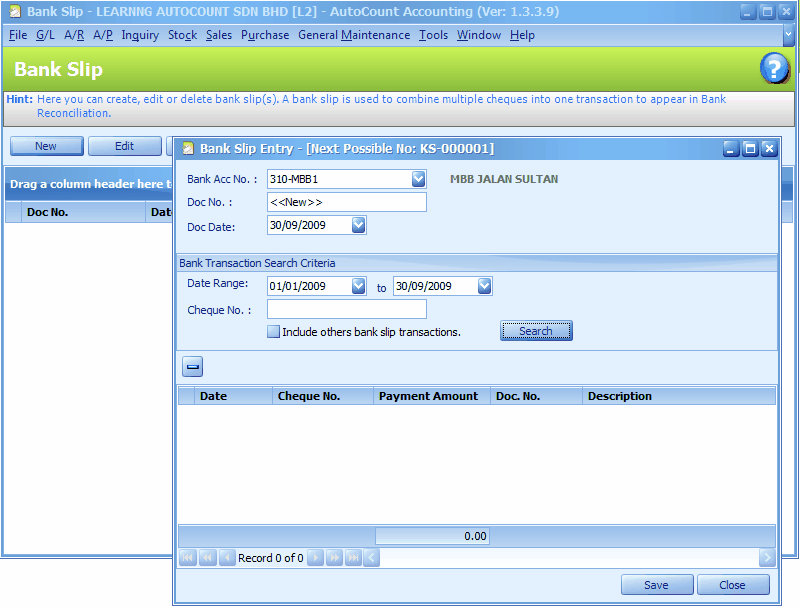 Bank Acc No.: select the bank account number
Doc.No.: <<new>> means to follow auto-running numbering (maintained at Document Numbering Format Maintenance), and the next possible number is displayed at the top bar of the window. You may click on it to key in any number you like.
Doc Date: the date of this document
Date Range: set the date range for searching purpose
Cheque No.: leave it blank to show all cheques according to the date range
Include other bank slip transactions: to include other bank slips when search
Click on Search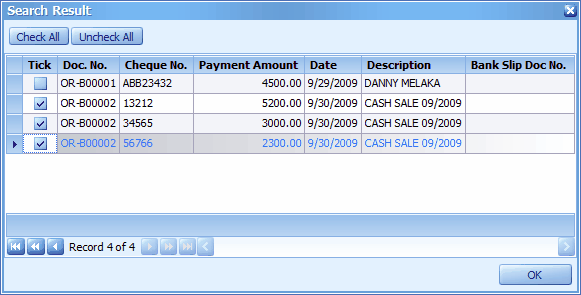 Check the boxes of those cheques to be combined into one bank slip.
Click on OK..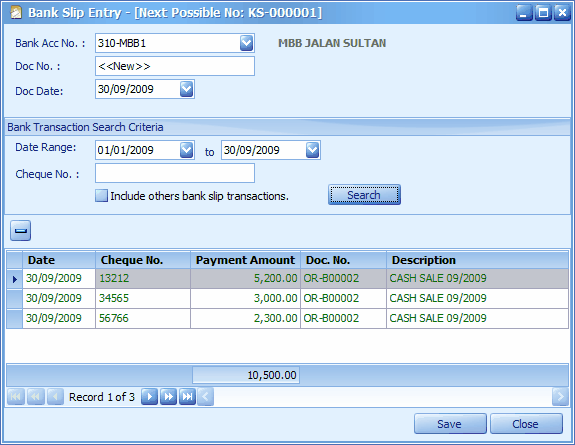 Click on Save to save this Bank Slip.
Back to G/L > Bank Reconciliation
Highlight a bank account, click on Add,
Define the Bank Statement Date,
Click on OK.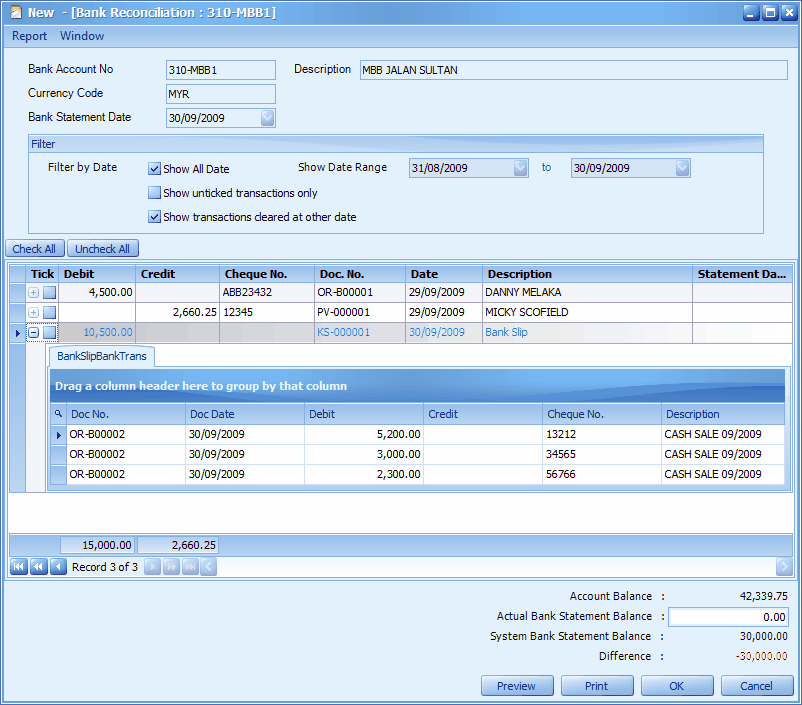 The bank slip is now shown as one entry, and can be reconciled as one entry.
You may click on the '+' sign to expand the details.
Related topic: 15038 Bank Slip Preview and Print
_____________________________________________________________
Send feedback about this topic to AutoCount. peter@autocountSoft.com
© 2013 Auto Count Sdn Bhd - Peter Tan. All rights reserved.