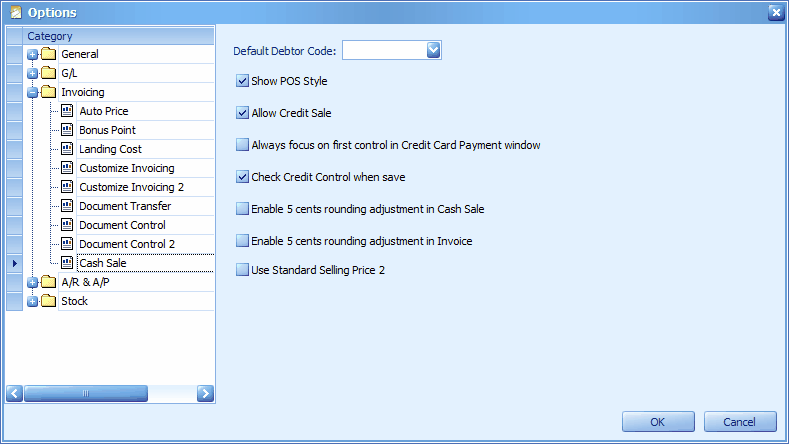 Default Debtor Code: if default debtor is maintained, Cash Sales will be assigned with default debtor/customer (e.g. a general code for all cash customer); this debtor code can be changed during transaction, but can not be left blanked. Besides, when default debtor is adopted during cash sales transaction, the bill will not allow to be saved as Credit Sales (the Credit Sales button will be disabled).
Show POS style: to display the header of cash sales like a mini POS system; if unchecked, Cash Sale header will look just as invoice header.
Allow Credit Sales: if this is unchecked, Credit Sales button on Cash Sale transaction screen will be disabled, regardless of whether or not default Cash Sales debtor is selected.
Always focus on first control in Credit Card Payment window: always default to choose the first credit card on payment method list. If unchecked, the system will not capture any of the payment methods during credit card payment, and user has to select a payment method from drop down list.
Check Credit Control when save: (in version 1.3.5.04 onwards) since the checking of credit control in Cash Sale function may lead to unwanted slowness, you may opt to uncheck this checkbox (to disable the Credit Control checking).
Enable 5 cents rounding adjustment in Cash Sale/Invoice: these two are available only in version 1.5.030 onwards. See 15030 Rounding Adjustment (5-Cent) in CS/Invoice.
Use Standard Selling Price 2: New field added in Stock Item Maintenance called Standard Selling Price 2, to be used in Cash Sales or AutoCount POS when they want to use price other than Standard Selling Price.
Related topic: 15039 Standard Selling Price 2
_____________________________________________________________
Send feedback about this topic to AutoCount. peter@autocountSoft.com
© 2013 Auto Count Sdn Bhd - Peter Tan. All rights reserved.