Having installed the software, you may use the software without license registration for 500 transaction.
When the transaction count approaching 500, a message will be prompted upon login (on the right bottom corner):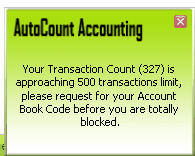 To register your purchased software, go to Tools > Programs Control > License Control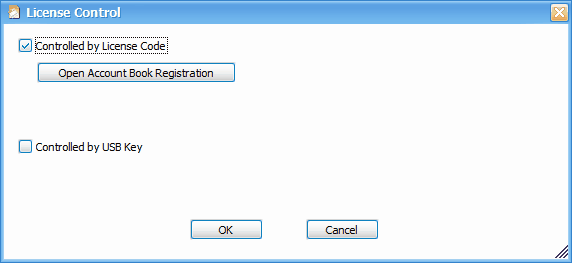 There are 2 types of software license for user to choose.
(1) License Code
This license type allows user to install the software at multiple servers and at multiple location. The user can create as many account books as he wished (with a same registered address) but each account book must be registered to obtain its licence code.
See: Controlled by License Code
(2) USB Key
This license type uses a device called dongle (USB Key) for license control. The device must be plugged at the server machine. If there are more than one server machine (e.g. multiple branches) each machine will need a separate USB Key. With this USB Key, user may create unlimited account books with different registered addresses, and there is no need to register these account books as license code is not needed. The device carries a warranty period of 12 months on replacing spoilt USB Key. The warranty period of replaced USB Key will end after 3 months or according to initial warranty period, whichever ends later.
_____________________________________________________________
Send feedback about this topic to AutoCount. peter@autocountSoft.com
© 2013 Auto Count Sdn Bhd - Peter Tan. All rights reserved.