What is MAWB?
Air Waybill (AWB) is an air consignment note issued by an international courier company, as an evidence of the contract of carriage.
In air freight, the exporter (the consignor) often engages a freight forwarder or consolidator to handle the forwarding of goods. The consignor authorizes the forwarding agent to sign certain documents (e.g. the AWB) on behalf of the consignor.
International AWBs that contain consolidated cargo are called master air waybills (MAWB). MAWBs have additional papers called house air waybills (HAWB). Each HAWB contains information of each individual shipment (consignee, contents, etc.) within the consolidation.
A house air waybill can also be created by a freight forwarder. When the shipment is booked, the airline issues a MAWB to the forwarder, who in turn issues their own house air waybill to the customer.
International AWBs that are not consolidated (only one shipment in one bill) are called simple AWBs.
The AWB has a tracking number consists of 11 digits and 3 parts.
•

The first 3 digits are the

Airline Prefix

issued by IATA (International Air Transport Association)
•

The next 7 digits is the

Serial Number

of the AWB
•

The last digit is the

Check Digit

(the check digit is derived by dividing the 7 digit Serial Number by 7. The remainder determines the Check Digit. Example: Serial Number 8114074 divided by 7 is 1159153

remainder 3

. Therefore the Serial Number + Check Digit is 8114074

3

).
Add New MAWB
Go to Advanced Freight > MAWB Maintenance,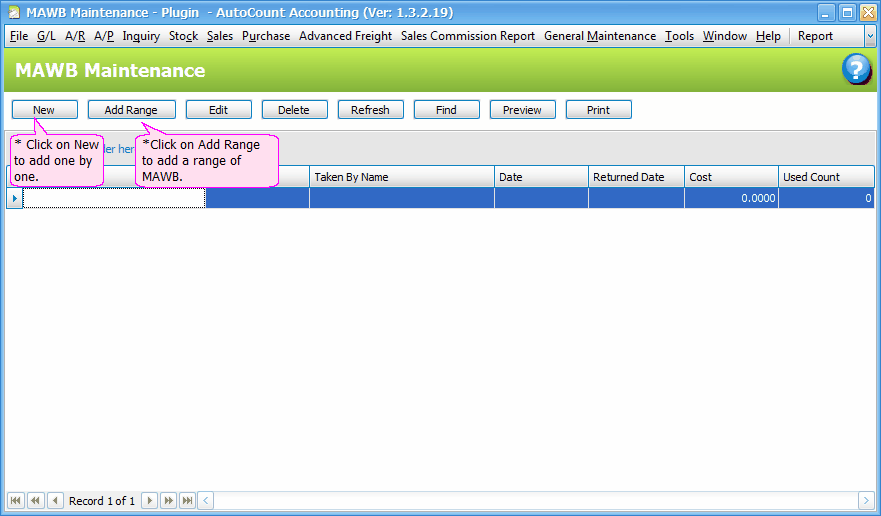 Click on New to add the MAWB one by one: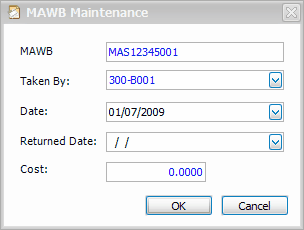 OR, Click on Add Range to add a range of MAWB,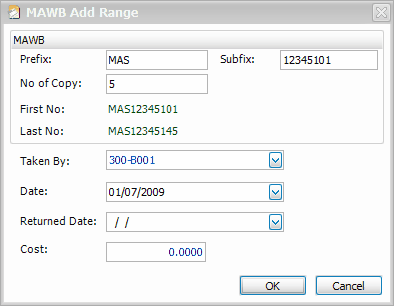 No of copy: key in number of copy, each copy will have 11 running numbers
First No: the first running number of the first copy (auto-generated)
Last No: the first running number of the last copy (auto-generated)
Taken By: select the customer that has taken these MAWB.
Date: the date of the issuance.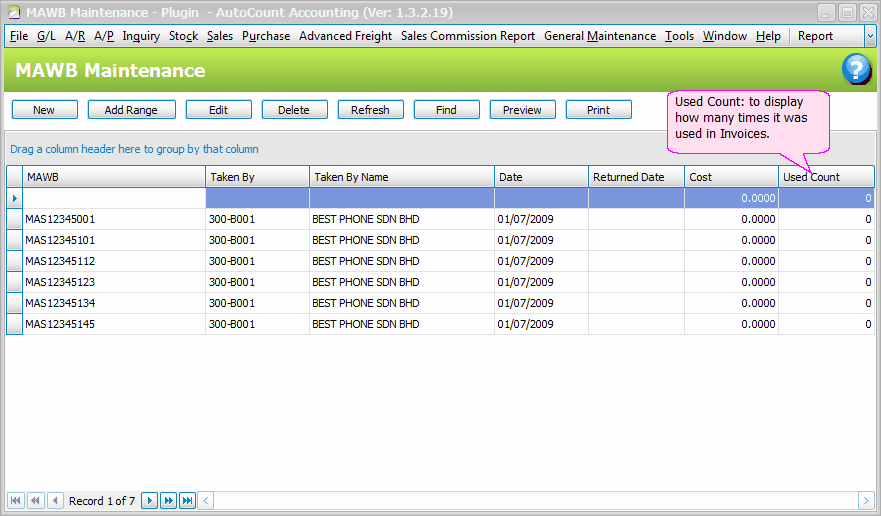 .
_____________________________________________________________
Send feedback about this topic to AutoCount. peter@autocountSoft.com
© 2013 Auto Count Sdn Bhd - Peter Tan. All rights reserved.