Open Account Book Control File: this is used to search and open the control file (.dmf) after modification has been made to the location of .dmf file. Especially in network environment, where the .dmf file is not kept in your local machine, you need to search and open it for once, so that AutoCount in your machine knows the new location of the control file (.dmf), and update the config file with the latest info.
In network environment , the .dmf file is usually kept in a separate folder on the database server and shared out to all workstations. (Caution: only .dmf file is shared, DO NOT move and share the config. file. ). All workstations will need to open the .dmf file for once; subsequent changes in .dmf file will be made only at database server, and all the workstations will be updated automatically.
At Manage Account Book windows, go to Account Book Control File > Open Account Book Control File,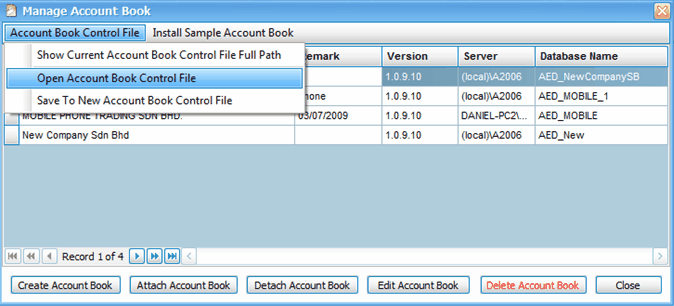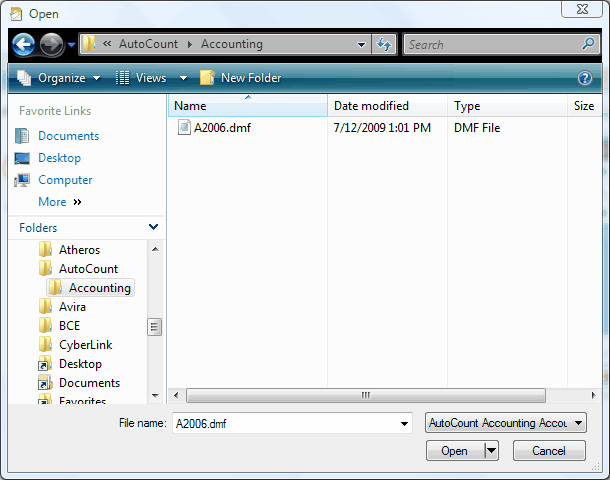 Define the DMF file either on your local machine or on a networked machine. Then click on Open.
See also:
Show Current Account Book Control File Full Path
Save To New Account Book Control File
Synchronize All Account Books With Database Server
_____________________________________________________________
Send feedback about this topic to AutoCount. peter@autocountSoft.com
© 2013 Auto Count Sdn Bhd - Peter Tan. All rights reserved.