This is to view/print Profit and Loss Statement.
Go to G/L > Profit and Loss Statement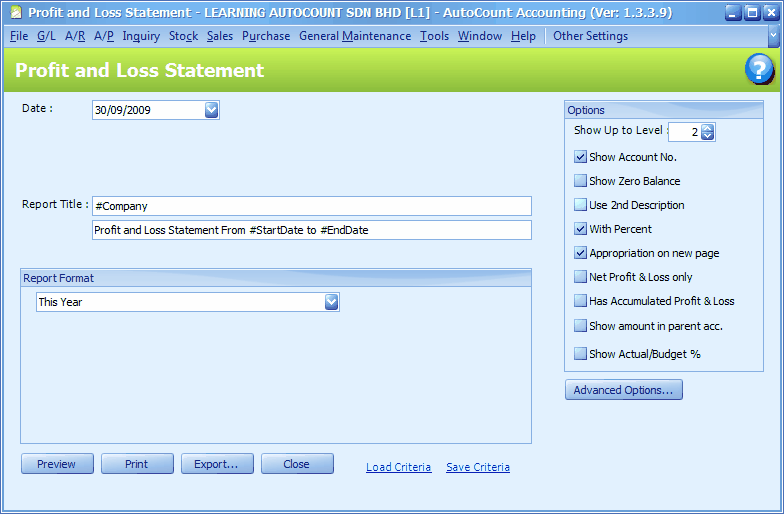 Date: define the date as at..
Report Title: (first row) '#Company' means the company name as maintained at Company Profile; (second row) '#StartDate' means the Start Date of current fiscal year; '#EndDate' means the Date you have defined at the top of this screen.
Save Criteria: to save the report criteria for future use.
Load Criteria: to select and load from earlier saved criteria.
Report Format
Formats available are as below: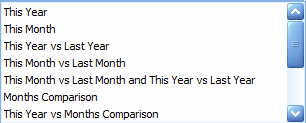 Options
Show up to level: to show multi level accounts up to maximum 20 levels.
Show Account No.: to show account number of each ledger account
Show Zero Balance: to include accounts with zero balance
Use 2nd Description: to show the 2nd row of account description instead of the first row
With Percent: to show the percentage of each amount under a column '%'
Appropriation on new page: to separate the Profit & Loss Appropriation Account on a new page.
Net Profit & Loss only: do not show Net Profit After Taxation and Net Profit After Appropriation.
Has Accumulated Profit & Loss: to show accumulated profit/loss B/F and C/F.
Show amount in parent acc.: to show total amount in each parent account when Show Multi Level Accounts is on. If unchecked, an additional row will be inserted after the last sub-account to show the subtotal.
Show Actual/Budget %: to show a comparison percentage of actual amount and budgeted amount
Advanced Options...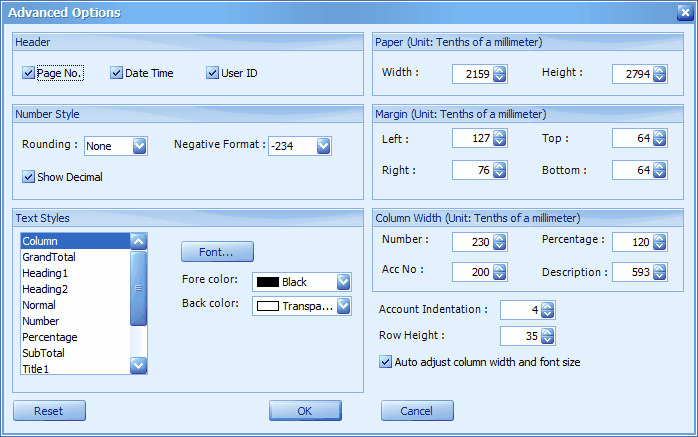 Header: to show Page Number, Date & Time, and User ID on the report header
Number Style: option to round up to 10, 100, 1000, or 10000; option for format of negative amount; option to show decimal.
Text Styles: define separately font and color for the components of the report.
Paper: to set the width and height of printing paper. (e.g. 2159 unit = 215.9 mm)
Margin: to set the margin of left, right, top and bottom (e.g. 127 unit = 12.7 mm)
Column Width: to set the width of the columns of Number, Acc No, Percentage and Description (e.g. 230 unit = 23.0 mm)
Account Indentation: to set the indentation of sub-accounts
Row Height: to set the height of rows
Auto adjust column width and font size: to make auto adjustment according to paper size
Reset: to use the default setting
OK: to save the setting
Cancel: to cancel changes and return to previous screen (same as pressing Esc button on your keyboard)
Click on Preview,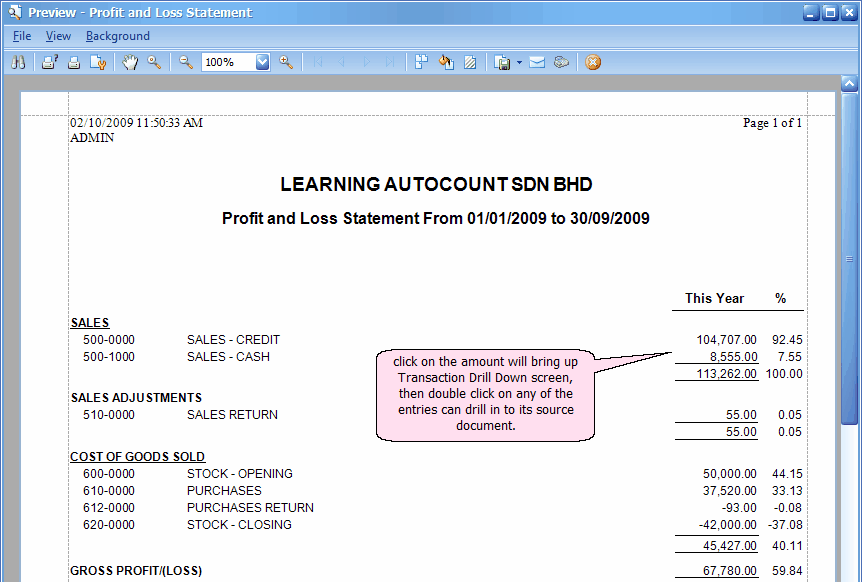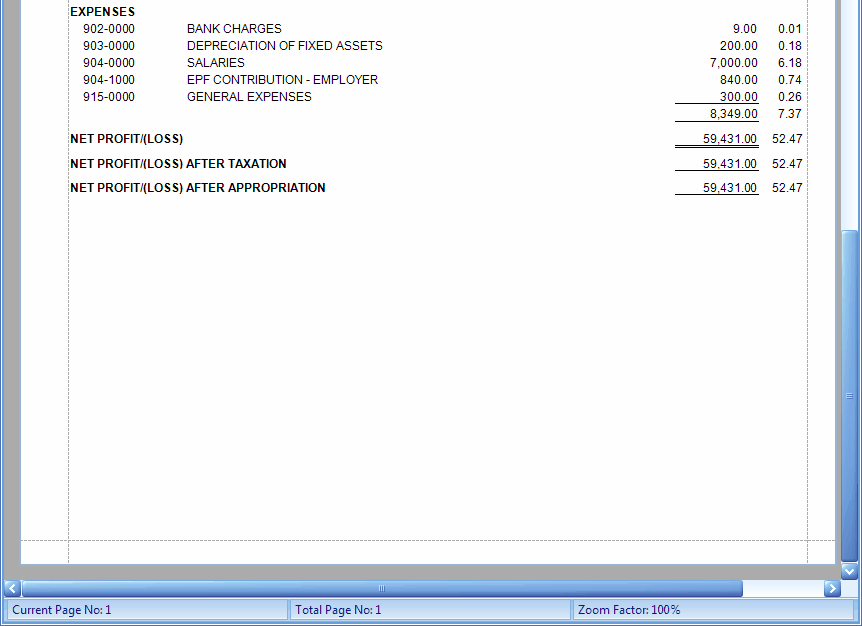 Click on the amount of any account.
A Transaction Drill Down screen will be prompted, listing the transaction entries that contributed to this amount.
Double click on any of the entries will drill in to the source document.
_____________________________________________________________
Send feedback about this topic to AutoCount. peter@autocountSoft.com
© 2013 Auto Count Sdn Bhd - Peter Tan. All rights reserved.