Bringing Practical Industry Experience to University Students
Auto Count Sdn. Bhd. and Universiti Tunku Abdul Rahman (UTAR) signed a Memorandum of Understanding on 26 June 2019, to adopt AutoCount Computerized Accounting Course into Accounting Information System (AIS) subject for students. The course will be taught and covered by AIS lecturers on first semester and comprises of 12 chapters, of which, AutoCount will design and provide course books, software installer, and lecturer references to UTAR. The signing of the MoU was represented by Ir. Prof. Academician Dato Dr. Chuah Hean Teik from UTAR and Mr. Choo Yan Tiee, CEO of Auto Count Sdn. Bhd.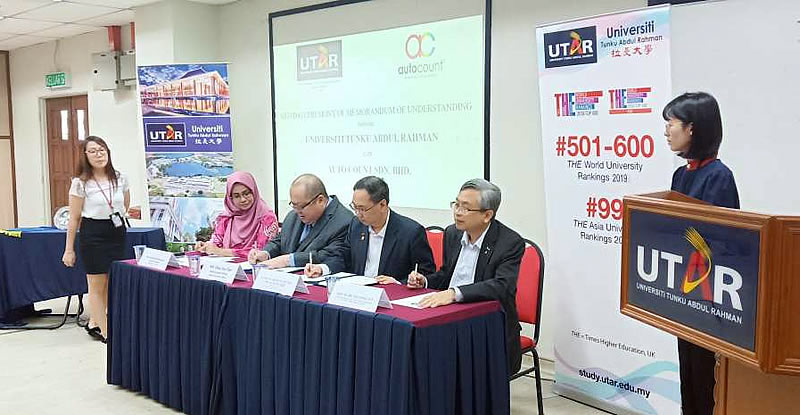 AutoCount and Universiti Tunku Abdul Rahman joined hands to offer
AutoCount Computerized Accounting Course as part of the institution's
Accounting Information System (AIS) core subject.
Quote from Mr. Choo Yan Tiee speech during the ceremony which was held end last month at UTAR's. Sg. Long campus in Kajang, "AutoCount has been designed for people who want to learn the software in a structured and easy way. I believe that the AutoCount Computerized Accounting Course will impart hands-on industry knowledge that will benefit the students". "As of today, we have more than 88 authorised training centres, conducting this course for public and private institutions in Malaysia, and more than 30,000 certificates being issued to learners who have successfully completed the course," he further said.
UTAR is the latest addition to the list of institutions who have adopted AutoCount's software system for accounting courses. Amongst the academic institutions who are currently using AutoCount Computerized Accounting course include MMU, UPM, UUM, UTM, UM, UPSI, Politeknik, Unirazak, Nilai College, TAR College University, UKM, UCSI, Xiamen University Malaysia, Sunway Kuching, and SEGI Kuching.
AutoCount is the leading business solutions software for Small and Medium Enterprises (SMEs) in Malaysia with more than two decades of experiences, serving more than 180,000 companies across South East Asia. The company has 280 authorised dealers, offering sales and services in Malaysia, Singapore, Indonesia, Brunei, Myanmar, Philippine, and Thailand. The business solutions software AutoCount offers are Accounting, Invoicing, Purchasing, Inventory Control, Point of Sale, AutoCount On The Go, and the very recent one, AutoCount Cloud Payroll, which combines payroll, e-claim and e-leave modules, complete with mobile applications for the convenience of employees. The new software will also be adopted for education program in the near future.