One simple step to comply with E-PCB submission and E-Payment to LHDN
Beginning 1st September 2019, the Inland Revenue Board of Malaysia (IRBM) will accept only online submissions for monthly tax deductions and e-payment from employers.
If you are using spreadsheet and manual processing for your payroll, then it is no doubt that you need to start preparing to meet these new requirements which will take effect in less than 2 weeks' time.
The great news is if you're using AutoCount Cloud Payroll the solution is straightforward. We are committed to being compliant with local income tax requirements, and we are ensuring that we provide you with the features you need to make the payroll process easy.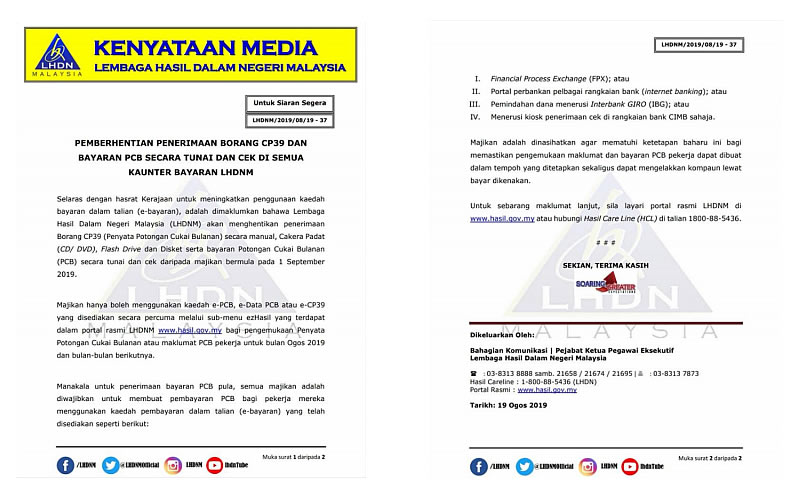 Useful features:
PCB Calculator with Pre-filled Data capabilities for verification in LHDN calculator - It helps to validate and eliminate errors in payroll tax deductions before submission
Support web-based submission of Income Tax, EPF and SOCSO reports
Link to online banking facilities of major banks for electronic payment
No-fuss required. Lots of time saved.
If you're not using AutoCount Cloud Payroll and still struggling with spreadsheets to manage your payroll process, you run a much higher risk of non-compliance with the new requirements above mentioned. A risk that could be costly if you're hit with a fine from the relevant authority.
Why not start using this PCB easy features from AutoCount Cloud Payroll or attend our FREE AutoCount Payroll Solutions Talk to see how AutoCount can help?
Click to learn more: AutoCount Cloud Payroll