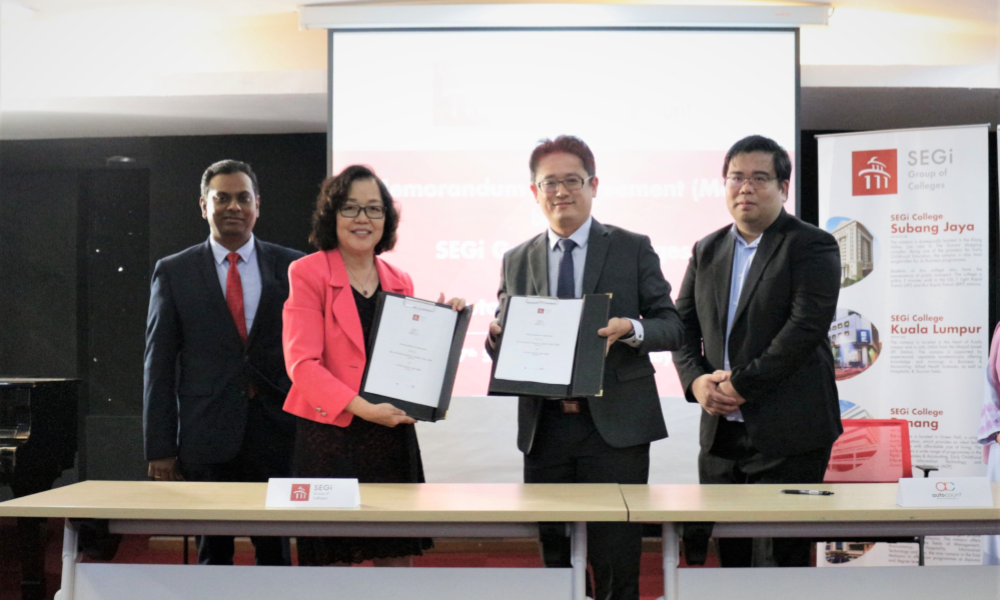 SEGI signed MoA with Accounting Solutions Expert
In an effort to increase practical insights and raise the adaptability and employability of its graduates, SEGi Group of Colleges (SGC) signed a Memorandum of Agreement (MoA) with Auto Count Sdn Bhd (ACSB) on 27th September 2019, to further equip its students with hands-on industry knowledge in accounting.
Through the AutoCount Computerized Accounting Course, SGC will be offering its students access to practical and specialised knowledge on various subjects including inventory control, purchasing, invoicing, point of sale and account management.
The agreement enables SGC to install the AutoCount Accounting Software (Education Version) onto computers and laptops at all college premises and students' personal computers and laptops with unlimited creations of new data files.
The AutoCount Computerized Accounting Course can also be adopted into subjects such as Accounting Information System, Principles of Accounting and Financial Accounting or be pursued as an additional standalone short course for a reasonable fee.
Upon completing all 12 chapters including two optional chapters on Basic SST for Accounting and Billing, students as well as lecturers who have chosen to attend the ACSB Lecturers Workshop, will be granted a Certificate of Completion by the leading accounting software expert.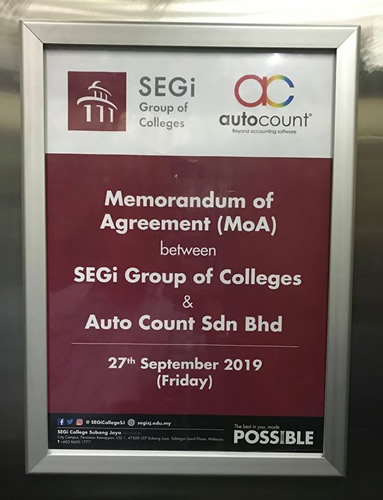 ACSB is an award-winning, MSC status business software solutions provider with a clientele of over 180,000 companies across Southeast Asia and this includes a large number of public and private education institutions in Malaysia.
Serving mostly small and medium scale enterprises that make up the backbone of the Asian economy, the Microsoft ISV Gold Partner provides a series of customisable business and accounting automation solutions which digitalises inventory control, purchasing, invoicing, payroll, claims as well as financial and HR-related functions.
"Accounting studies are generally structured and class-bound. As such, the exposure to industry practices are dependent on their assignments based on the curriculum that we have developed with our industry partners," said SGC Chief Executive Officer, Dr. Lisa Tan.
"Having software experts like ACSB onboard will provide students and staff comprehensive, hands-on knowledge as their accounting software is used everywhere by all types of business specialisations," said Dr. Tan.
"With their software solutions, we can ensure that our students get good insights from current industry practices, its challenges, and solutions to enhance their knowledge and skills," said Dr. Tan.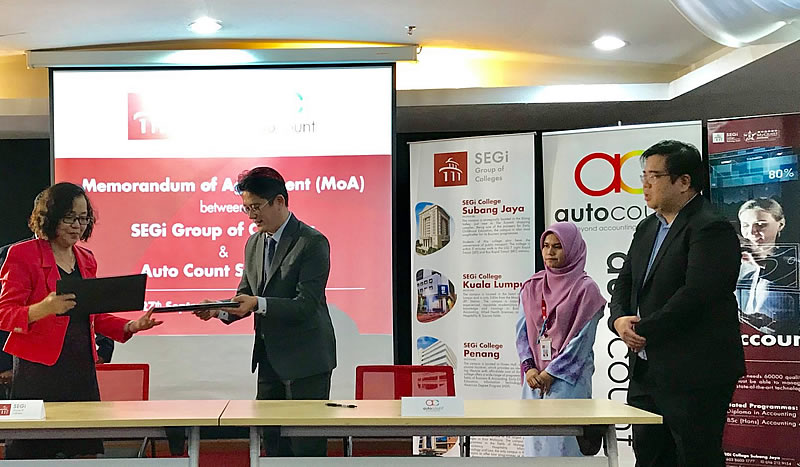 She added that the partnership further boosts the credibility of SEGi Colleges' accounting programmes which are readily recognised by local and international accreditation and certification bodies.
Meanwhile, ACSB Director Alex Ng said the AutoCount Computerized Accounting Course will certainly benefit all accounting students as they are using the best and most popular accounting software in the country to learn.
"My only advice to them is: do not limit yourself to the contents of the course book. We are talking about a practical and matured business software that consists of more than 35 modules and is trusted by more than 180,000 companies," said Ng.
ACSB had recently launched a new solution called AutoCount Cloud Payroll which combines the payroll system, e-claim and e-leave modules and comes complete with a mobile application for the convenience of employees.
Following that, Ng said ACSB will soon be introducing a new education program for cloud payroll and look forward to offering the course to SGC upon its successful roll out.
In addition to benefiting the business and accounting students, this partnership will also add value to their hospitality and tourism programme as the software and training provider has also offered to install their AutoCount POS F&B software in the college's kitchen and F&B system to provide the hotel management and culinary students with hands-on exposure in managing the accounting aspect in their respective fields.
ACSB will also be working closely with SGC to reach out to secondary schools and the public through talks, seminars and conferences to raise awareness on new age accounting including cloud-based systems.