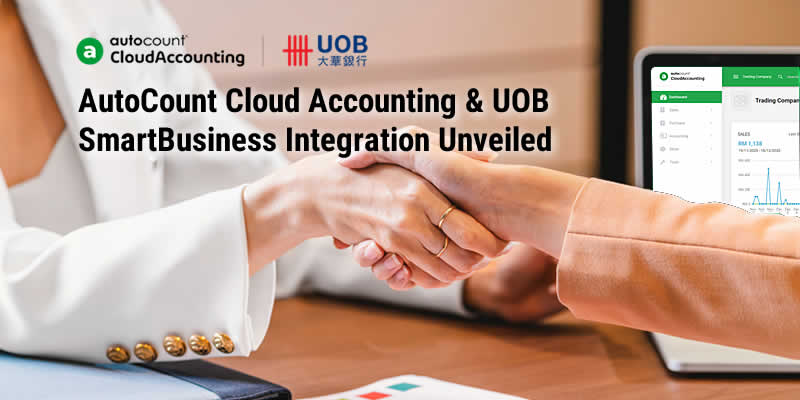 AutoCount Cloud Accounting & UOB SmartBusiness Integration Unveiled
AutoCount and UOB SmartBusiness have joined forces to bring you an all-in-one platform that seamlessly integrates AutoCount's Cloud Accounting solution with UOB SmartBusiness.
This partnership offers an integrated solution that empowers SMEs to manage their business operations and finances efficiently, and hello to the convenience of having everything in one place. AutoCount made it real-time for you in its Cloud Accounting system with local bank connections without you stressing over data accuracy. This means that the bank and the software communicate with each other.
AutoCount is the preferred solution partner for many reasons. It offers unparalleled accessibility, allowing you to access business insights from any device with an internet connection. Whether you're on-the-go or working remotely, this platform has got you covered. And the best part? AutoCount Cloud Accounting is always up-to-date with the latest version, so you never have to worry about maintenance, software updates, complicated hardware, storage, and security facilities.
Besides that, collaboration becomes easier with AutoCount Cloud Accounting - it allows instant processing of inputs, billings, posting, and reports, all while providing selected personnel with user access rights. Plus, AutoCount Cloud Accounting ensures the highest level of security by backing up and storing data in Microsoft Azure, one of the most secure cloud environments in the world.
Users who connect their AutoCount Cloud Accounting with the UOB SME app can enjoy a real-time view of their bank balance and transaction history on the AutoCount system. They can quickly access a reconciliation and an interactive cashflow dashboard, making it easy to access accounting-related key information such as open receivables, payables, overdue and to be due, top 5 payers/payees, and operating expenses all from the app. With these features, decision-makers can immediately know the overall performance of their company, without the need to manually contact their finance team to generate the report for them.
More automation and connected systems make your business workflow more efficient and productive, leading to a more profitable business model. And the best part is that these connected features already exist for you in AutoCount Cloud Accounting.
With a superior cloud accounting software designed for SMEs and exceptional bank solution from UOB SmartBusiness, you no longer have to choose between greatness - you can have both in a single, straightforward, and super easy-to-manage platform. Say goodbye to the hassle of managing multiple solutions, and hello to the future of accounting and finance management with AutoCount and UOB SmartBusiness!
Contact AutoCount today to find out more and speak with a consultant.