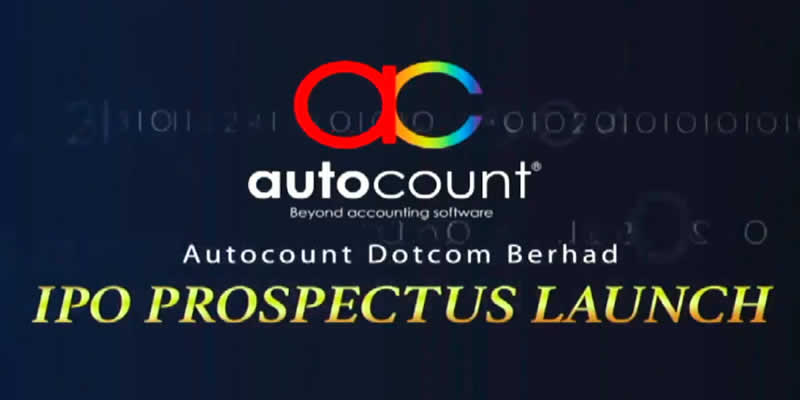 AutoCount's IPO: Paving the Way for Exciting Opportunities
Get ready for some exciting news! AutoCount, Malaysia's leading business and accounting software solution, is about to make a major milestone in its 27 years of software development business. You'll be thrilled to know that AutoCount will soon be listed on Bursa Malaysia – ACE Market. This means that as a publicly listed company, AutoCount will offer its shares to the public, allowing everyone to invest and share in its success.
AutoCount has built a reputation for quality, reliability, and flexibility in designing various software solutions for local businesses and SMEs. Their flagship on-premises AutoCount Accounting solution, cloud-based AutoCount Cloud Accounting, HR solution AutoCount Cloud Payroll, Point of Sale System, and Omnichannel sales platform AutoCount OneSales have been highly praised by users.
AutoCount Background
Prepare to be inspired by the incredible story of AutoCount – A brand that has become a household name and proudly stands as Malaysia's No. 1 software provider.
Founded in 1996 by two visionary individuals, Mr. Choo Chin Peng and Mr. Choo Yan Tiee, AutoCount created the first suite of accounting software solutions that could cater to businesses of all sizes.
Fast forward to today, and AutoCount serves over 210,000 businesses across Malaysia, Singapore, and beyond. With the unwavering support of 269 authorized dealers in the region, AutoCount has made a name for itself in the industry, providing exceptional support and consultancy to its clients.
Furthermore, AutoCount has partnered with 47 universities and colleges to include AutoCount accounting software as part of their computerized accounting course syllabus. This partnership not only provides the younger generation with hands-on experience with AutoCount software but also contributes to the development of society by creating a pool of skilled professionals.
The Listing
AutoCount is all set to take its growth and expansion plans to the next level with the listing on ACE Market on May 9, 2023. As part of this milestone moment, AutoCount is offering shares to the public, with the funds raised being channelled towards enhancing products and services, research and development of new products. This is a fantastic opportunity to be a part of AutoCount's growth story and contribute towards shaping the future of business and accounting software solutions. Don't miss out on this incredible opportunity to invest in a company that is dedicated to innovation and customer satisfaction.
"We are thrilled to be taking this important step in the growth of our company," said Mr. Choo Yan Tiee, the founder and CEO of AutoCount. "Listing on Bursa Malaysia will give us more resources to expand our business, enhance our products, provide better customer service and support, and continue to develop more innovative solutions. We are excited to be able to share this journey with our stakeholders and the wider community."
AutoCount is all set to soar to greater heights with its upcoming listing on Bursa Malaysia. With a solid team, a history of success, and a passion for innovation and customer satisfaction, AutoCount is set to become the most dynamic and exciting company in the region.
Make sure to keep up with all the latest news and updates as AutoCount continues to break new ground. Follow us on our social media channels or subscribe to our newsletter below to stay in the loop. Don't miss out on the chance to be part of this exciting journey!